Tours for People of Every Age and Taste
Prices displayed do not include taxes & fees.
Costa Rica – Meet the Green Jewel of Central America
Squeezed between Panama and Nicaragua, Costa Rica is a small country home to awe-inspiring rainforests, waterfalls, beaches, and mountains. The country is an ultimate destination for nature lovers, and each year, over 3 million tourists come here and feed their wanderlust.
Whether you're living in Costa Rica or coming from a foreign country, our adventure park in Costa Rica is here to give you a once-in-a-lifetime experience you'll remember for years.
About Park
Located in the Heart of Costa Rica
The park is just a 15-min distance from Pan American Highway #1. As you come here, you'll be welcomed by courteous staff going above and beyond to meet all your needs. We'll stay with you every step of the way so you can make lovely memories without getting distracted.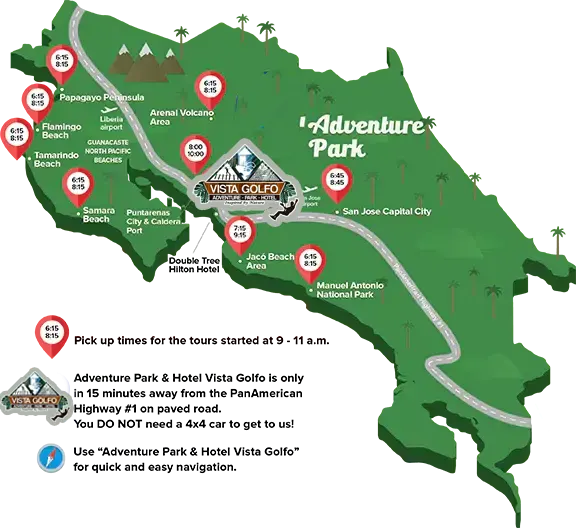 Enjoy Zipline Tour Over 11 Waterfalls
Embarking on a zip line tour is a dream come true for thrill seekers. But what if you could also discover the beauty of natural wonders while flying? What if you pass over 11 waterfalls, all boosting your passion for exploration with their heavenly views?
Here at our adventure park in Costa Rica, you'll enjoy a thrilling zip line tour comprising 25 cables and passing over 11 heart-stopping waterfalls. As you fly from one point to another, you'll observe canyons, mountains, and the flora and fauna up close. It would be a wonderful experience you'll want to enjoy again and again.
So book your tour now and get ready to face the heights head-on.
Why you should visit Costa Rica
adventure park on your next
vacation
DECENT ACCOMMODATIONS ARE
WAITING FOR YOU AT OUR FIRST-CLASS
HOTEL
Boundless Adventure Awaits At Our Park
Thrilling Stories from Our Happy Tourists!
Simply awesome. The best Canopy ever, recommended. I will keep on mind to come back. See you on next may.
I will never forget this experience truly majestic place the yours. Good attention for sure. Thank you!
This tour was amazing. So much fun. Great experience and professional guides. Highly recommended.
Hi Barbara, It's Angela from Canada! We did the tour the last February. The best what we did in Costa Rica.
This was an incredible experience. The waterfalls were awesome. About management and staff excellent. We hope to come back soon.
Why Choose Us?
Complete Safety
People visit our park to have exciting and memorable times. It is our responsibility to keep them safe during their time at our park. To make this possible, we follow strict safety standards and provide proper training, equipment, and guides for each activity.
Lively Atmosphere
Our park is always buzzing with energy. As soon as you step in, you will feel welcome, excited, and full of good vibes. It's infectious. The excitement spreads like wildfire, and suddenly, you can't wait to jump into all the activities that our park has to offer.
Amenities
Well-maintained amenities are essential for a comfortable visit. They help visitors relax between activities and provide a convenient experience. At our park, we have clean and tidy restrooms, picnic areas, and food stalls to help you revitalize and start again.
The Fun Doesn't Have To End When the Sun Sets.
We take pride in having a top-notch hotel that gives you stunning views over the Gulf of Nicoya. Let your adventure tour in Costa Rica continue in comfort and style by reserving your preferred accommodation today.