Costa Rica Zip LINE Canopy tour
Canopy Tour Over 11 Waterfalls
The natural beauty of Costa Rica doesn't need any introduction. From exotic rain forests and mesmerizing waterfalls to breathtaking mountains, the country offers an endless potential for nature enthusiasts wanting to roam wild.
Now, imagine discovering all these wonders in a single tour. What if you could combine the thrill of different nature-filled activities and make your trip to Costa Rica truly unforgettable?
Introducing a Waterfall Zipline Tour in Costa Rica – A One-of-a-kind Journey Where Every Moment Feeds Your Wanderlust
If you want to get the most out of your stay in Costa Rica, our all-inclusive zipline tour is here to provide you with thrilling excitement like none other.
Passing over 11 heavenly waterfalls, each giving you a renewed sense of energy, this canopy tour is all you need to strengthen your connection with nature.
It's time to embrace the Costa Rican outdoors and recharge like never before.
Book Now with a 25% Prepayment
What's Included in the Journey?
It's not your average zipline tour in Costa Rica where you just soar through the sky. During 3 hours of journey, you'll feel a whirlwind of emotions at every turn. As you glide past the air, you'll see lush valleys, splendid canyons, and majestic waterfalls passing beneath you.
And it's not just about observing the stunning views from above –you'll also be able to capture photos, enjoy and experience 1 easy rappelling (you will be connected to the zip line cable and please avoid touching the cliffs) –all in the same tour.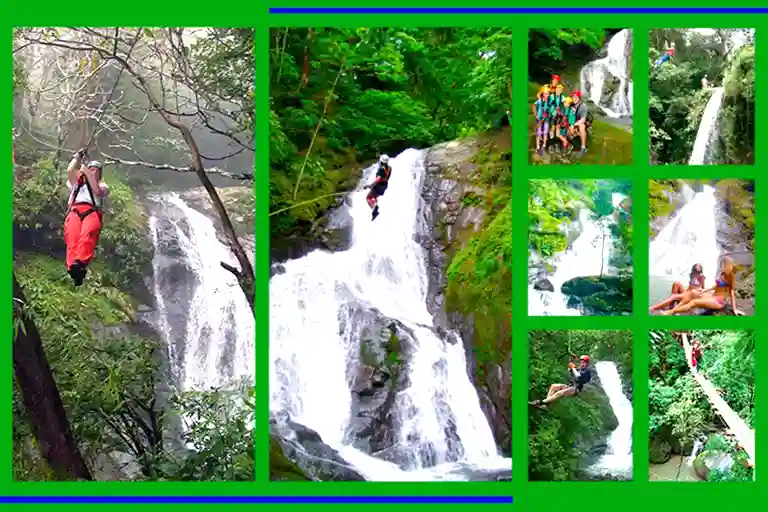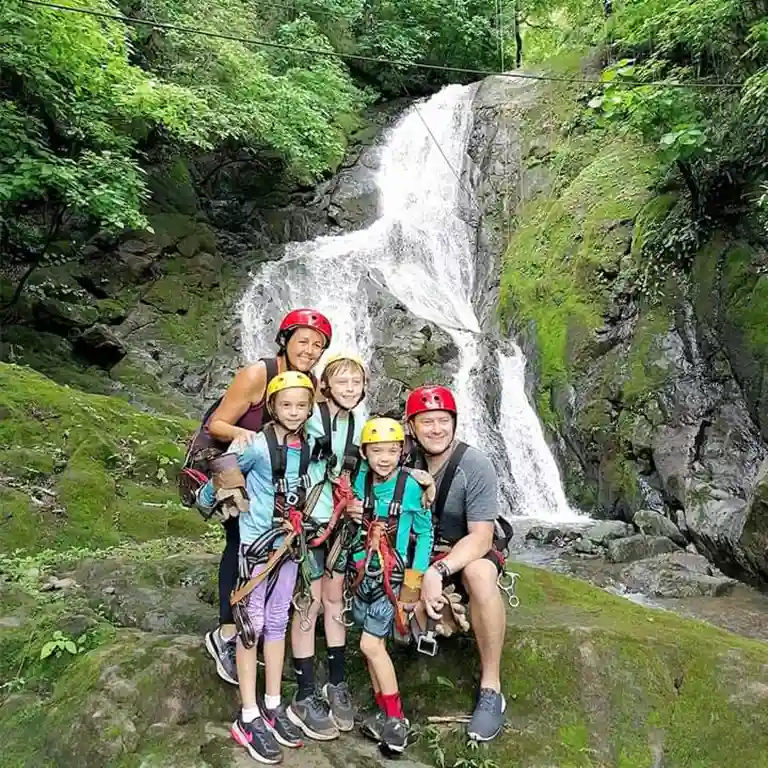 Start of the Tour
Your journey will begin from Adventure Park and Hotel Vista Golfo. You feel a mix of excitement as you step onto the platform surrounded by a lush green canopy of tropical forest. You double-check your harnesses and say a final goodbye to your friends before flying in the air.
Feel the Magic of Waterfalls
You're fully immersed in flying when you suddenly hear the sound of cascading water. It grows louder with each passing moment, and you wonder what's coming ahead. And in just a few moments, you reach over a spectacular waterfall that is flowing in all its glory. This scene etches in your memory, and you wish you never leave this place.
Our Amazing Zip Line Tour over Waterfalls in Costa Rica – an exciting experience you will never forget
Take Flight through Canyons
You never want to stop watching the waterfall, but the scenes ahead make you forget what you've just witnessed. In a few moments, you're gliding through a canyon where sheer rock walls on both sides dazzle your eyes. The vastness and grandeur of the landscape make you question your existence.
Find Freedom in Nature and Peaks
You see magnanimous Costa Rican mountains meeting the sky as you go from one zipline spot to another. While navigating the twists and turns, you capture the beauty of indigenous plants, birds, animals, and ecosystems that are not to be found anywhere on the continent.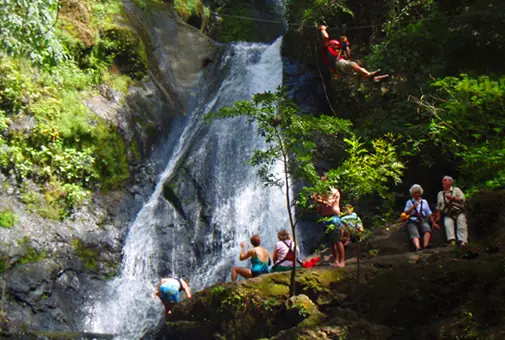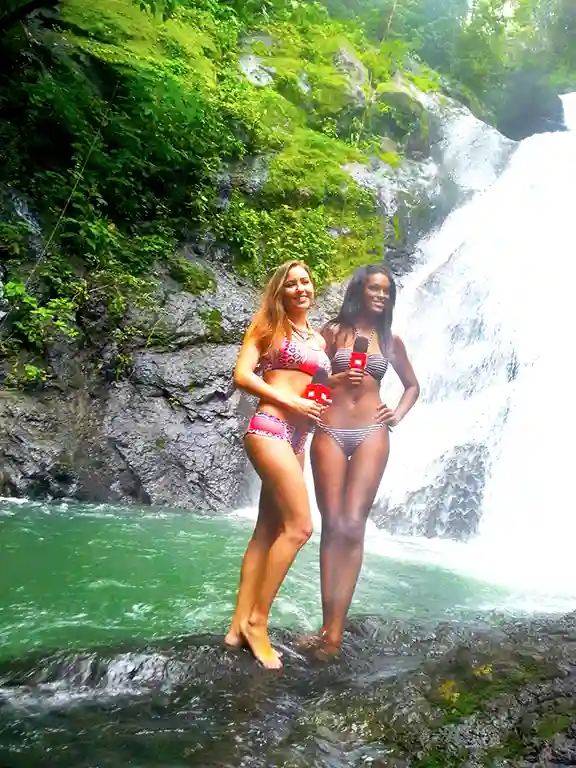 Immerse in the Spectacle of 11 Waterfalls
During the canopy tour in Costa Rica, you won't just go over a single waterfall. Instead, there will be 11 waterfalls, each offering mesmerizing views. The roar of water, rustling of leaves, and chirping of birds all combine together to create a truly immersive experience.
Once you've experienced all the fantastic activities, we'll welcome you back to our pristine, high-standard hotel. In the Restaurant El Tucan from the Adventure Park you'll be able to have a delicious lunch while soaking in the awe-inspiring views over the Gulf of Nicoya. It'll sure to make you leave all your fatigue behind.
Explore depths of the jungle while canopying in Costa Rica
Safety before Anything Else!
Your safety and peace of mind are everything to us. That's why we have cultivated highly-trained guides who stay with you every step of the way. We provide a comprehensive briefing on body position, braking methods, gear usage, and launching/lading areas so you can enjoy your ride without any risks.
We also take pride in our innovative brake system that is being used in several entertainment facilities. Our regular inspection of pulleys, cables, and harnesses ensures that everything works with perfection.
For us, giving you a safe, enjoyable tour experience isn't a job –it's a commitment we go above and beyond to fulfill.
Weight Load and Health Restrictions
You definitely don't want to face a situation where the weight load spoils your entire day. The zipline equipment can accommodate 260 pounds, and anything more than that would create problems.
Similarly, this tour isn't for you if you're:
 Prone to motion sickness
 A pregnant woman
 Having mobility issues
 Suffering from back or neck problems
 Having heart or respiratory issues
 Afraid of heights
Remember, you've come a long way to make memories, and you can only enjoy it to the fullest if you're healthy and physically fit.
.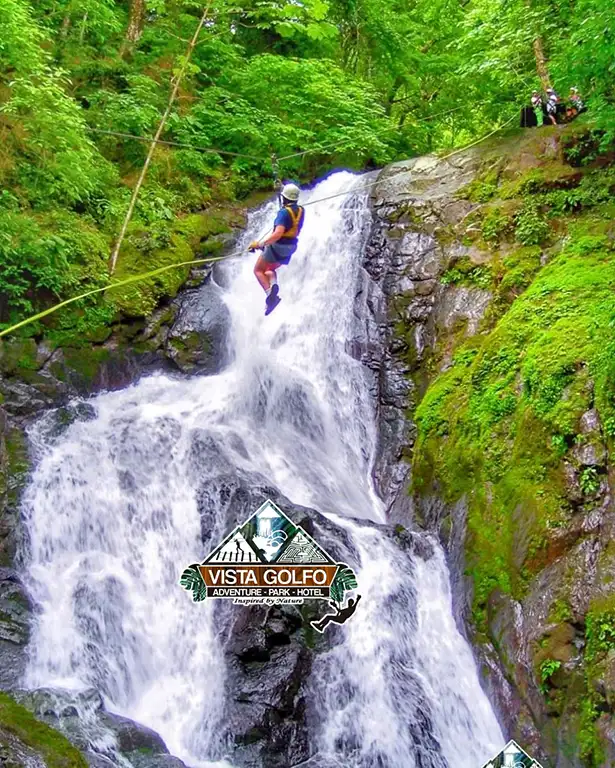 Are you still worried about safety during this adventure? Leave it to us. Thousands of tourists from all over the world come to our park on exhilarating holiday under the tutelage of our guides who have been conducting these tours in Costa Rica for more than a decade. They are fully capable of ensuring safety at every turn of your adventure.
Shore Excursion from Caldera and Puntarenas Port
Are you staying in the Pacific Coast of Costa Rica and want to take your joy up a notch?
We offer the same zipline tour in Costa Rica from Caldera Port and Puntarenas for people looking to make lasting memories. You'll get everything described above and more!
During this shore excursion, you'll:
Have the opportunity to swim in crystal-clear natural pools
Enjoy ziplining tour over 11 waterfalls
Enjoy easy rappelling and suspended bridge activities
Have lunch at our restaurant while getting breathtaking views over the Gulf of Nicoya
How Much Does the Canopy Tour in Costa Rica Cost?
This full-of-excitement Zipline tour only costs for an Adult $89 per person for kids $79 6-17 Years old.
Here, it is important to note that certain activities require you to pay some extra amount.
For example:
Transportation charges will be separate if you want us to bring you to our park
For an additional Superman flight, you have to pay $15 per person
For an additional Monkey Visit, you have to pay $15 per person.
We've also created all-inclusive packages that help you enjoy the stay, hotel, food, and several other activities, along with zipline tour.
Our golden package promises an incredible experience like no other. Feel the rush as you soar through the air on a zip line and glide effortlessly over breathtaking waterfalls. You can also challenge yourself on our suspended bridges to test your balance and agility. In case you want to get your heart pumping, rappel down cliffs and conquer new heights with each descent. For added fun, explore our mind-bending labyrinth, where twists and turns await around every corner. And make sure you stick around for the mesmerizing sundown after hiking along scenic trails with awe-inspiring mountain views, a magical moment that will leave you speechless.
Highlights
Check-in is open from 3:00 PM till sunset
Dinner
1 Overnight stay
Breakfast
Tour over 11 waterfalls at 9:00 AM
Check-out at 12:00 PM or after the tour.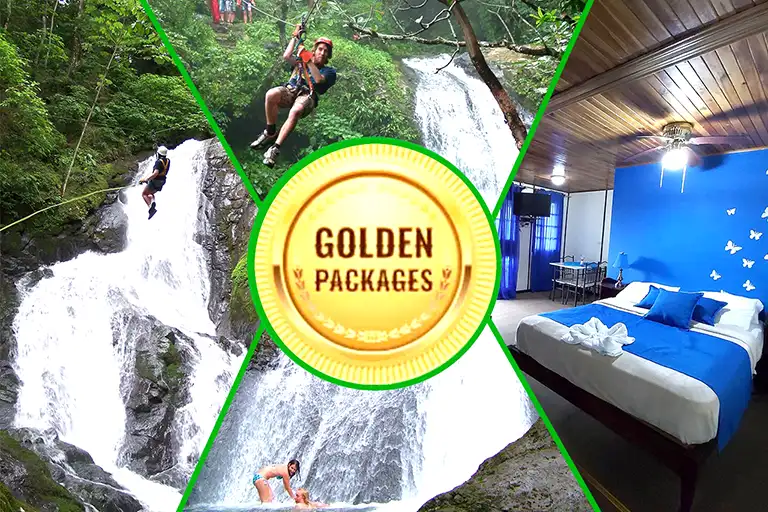 Take excitement to new heights with our platinum package for zip line tour Costa Rica. It provides an adventure-packed experience that includes a thrilling zip line tour, soaring over 11 magnificent waterfalls, heart pounding high ropes tour that includes over 17 thrilling elements, an exciting ride on four cable zip line offering panoramic views, and a Tarzan swing to test your balance, strength, and courage.
Check-in at 3:00 PM
2 Overnight stay
Typical Costa Rican Lunch
Breakfast
Tour at 9:00 AM 1. day 11 Waterfall Canoy tour, 2.day High rope course.
Check-out at 12:00 PM or after the tour.

Looking forward to coming to Costa Rica on holiday? We can make all the arrangements for your stay with us . We are close to the airports, most popular beaches and, of course, our Adventure Park where you can enjoy the unique zip-line tour over 11 waterfalls, the high ropes course, and more. We can also make the airport pickup, hotel-hotel, or hotel-airport arrangements for you. So, we are here to take care of everything you may face with. Feel free to ask us for a quote for our amazing Mountain hotel and find out the cost of zip line tours in Costa Rica.