Puerto Caldera and Puntarenas,
Zip Line shore excursions
Shore Excursions

Add fun to your Panama Canal cruise stop.

Are you making a stop during your Panama Canal cruise ship across Puntarenas and Caldera Port? Our adventure park is waiting to offer you an unforgettable time with multiple packages, including a hanging bridge, fly like Superman cable, zip line tour, and more. As you glide from one platform to the next, you'll see the beauty of nature up close. It's like being in a magical world filled with amazing sights and sounds. You'll soar above ancient trees and see the vibrant plants that make shore excursions Costa Rica so special. It's the perfect way to relax and recharge for the journey ahead.
Our Puerto Caldera and Puntarenas Shore Excursions Costa Rica
11 Waterfall Excursions
This is an exciting package for Panama Canal tourists interested in making shore excursions Costa Rica. The details include:
25 cables over 11 waterfalls, cascades, canyons, valleys and a hanging bridge.
Two easy rappelling (you will be connected to the zip line cable and please avoid touching the cliffs).
Clear and refreshing waterfall pool at the end of the excursion.
This package costs $89 plus transportation.
Special offer: Round trip free of cost if your group has a minimum of six people.
Pick-up time is usually at 8:00 am. If the ship arrives later, then 30 minutes after the arrival. We will be waiting for you at the entrance of the pier or in Caldera at the entrance of the harbor.
Five to six-hour long tour inclusive roundtrip.
Pay $15 more and do the 'Fly Like Superman' zipline!
25% deposit is required.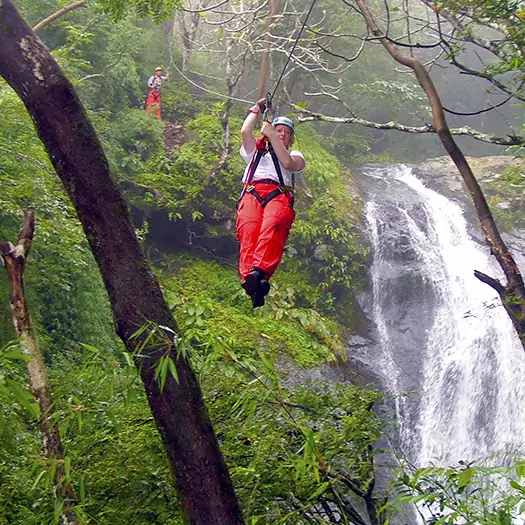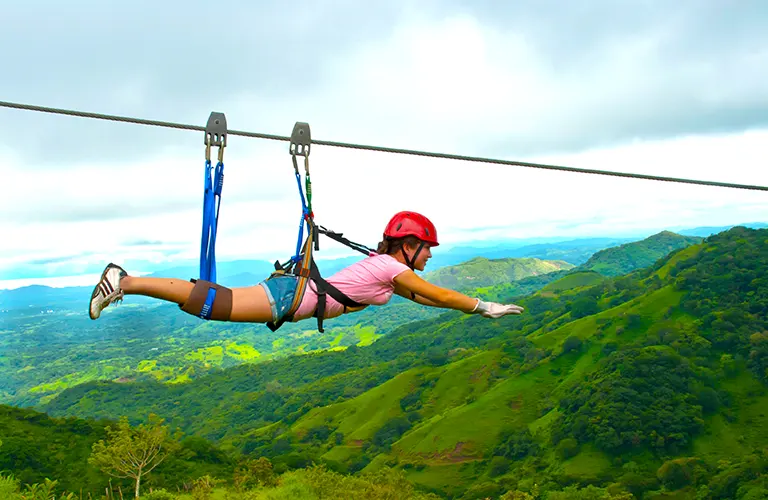 Finca Daniel Canopy Tour
This is another amazing package that offers breathtaking views of the stunning Gulf of Nicoya. Here are all the exciting details:
13 zipline cables to ride.
One 750-meter 'Fly Like Superman' cable.
Special offer: $55 per person inclusive roundtrip – a minimum of eight people.
Four to five hours inclusive roundtrip.
If you're interested in this tour, here's what you need to do: visit the tour page and select either Puntarenas or Caldera as your preferred pickup location. It's important to mention in the comments section that you'd like to take advantage of the special offer and pay only the price difference at Adventure Park
Mega Adventure Mix Tour
Get ready for an incredible package that's packed with mega excitement! We've got something truly amazing in store for you.
Eight cables.
17 high rope courses.
Fly Like Superman, Tarzan Swing, and Rappelling.
The cost of the tour is $70.
Transportation comes with extra cost $45 and we pick you up from the pier.
Pick-up time is usually at 8:00 am. If the ship arrives later, then 30 minutes after its arrival.
A minimum of four people and a 25% deposit is required.
Special offer: roundtrip is free for a minimum of six people.
The tour is four hours long, inclusive roundtrip.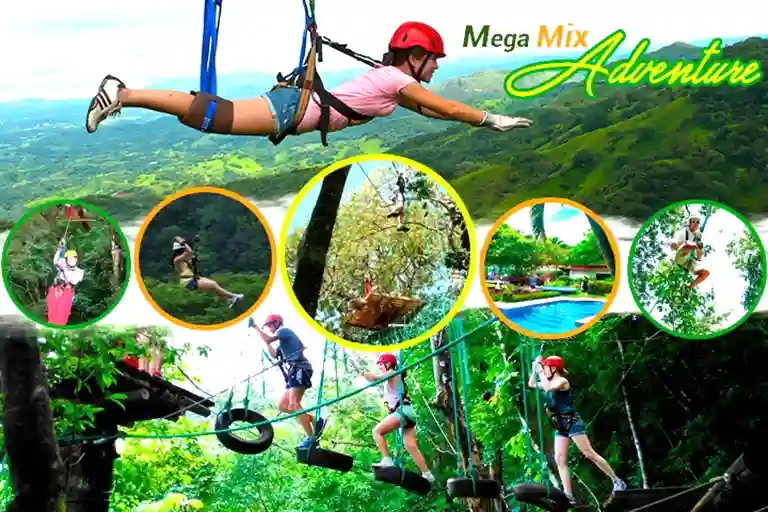 Companies that offer cruise service through Panama Canal
When planning to cruise through Panama Canal, please choose one of the following companies for a smooth experience:
Panama Cruise
Panama Cruise is a reliable cruise line that offers memorable journeys through the fascinating Panama Canal and the surrounding regions. With a reputation for excellent service, Panama Cruise ensures its passengers have the best time.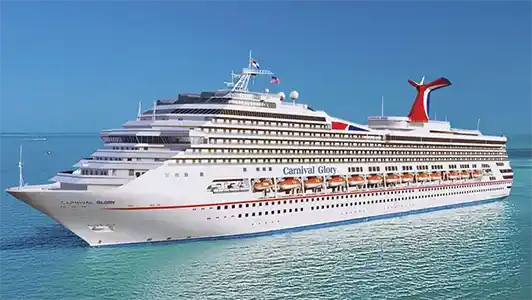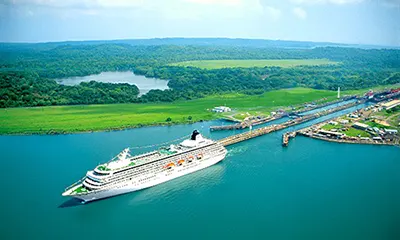 Holland America Cruise
Holland America Line wants you to learn and have fun at the same time. They offer interesting lectures, cooking demonstrations, art classes, and live performances on board. They also provide information about the places you'll visit, so you can learn about their history and traditions.
Norwegian Cruise Line
Norwegian Cruise Line is famous for Freestyle Cruising – an approach that gives you the freedom to create your own cruise experience. You can eat your meals whenever and wherever you want without having to follow specific dining times.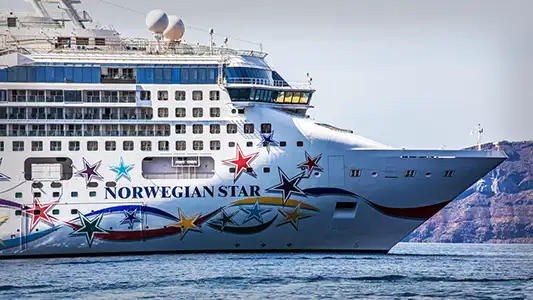 Princess Cruises
Princess Cruises is a great choice for both experienced travelers and first-time cruisers. They make sure you have an amazing vacation with a variety of trips to choose from, delicious food, and various fun activities to do on board.
Carnival Cruise
Carnival Cruise Line is a fun and exciting cruise company that offers a great vacation experience. They have lots of entertainment, yummy food, and a party-like atmosphere. Whether you are young or old, Carnival makes sure you have a blast.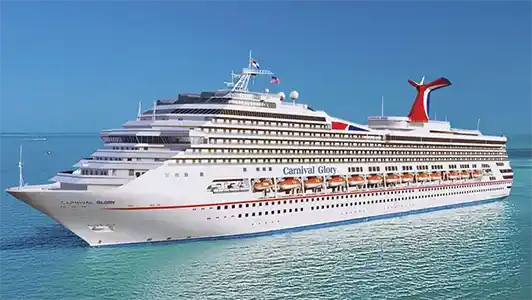 Celebrity Cruises
Celebrity Cruises is a fancy and elegant cruise line that's perfect for people who want a luxurious vacation. They pay close attention to every little detail to ensure everything is perfect. The atmosphere on board is classy and refined, and the service you receive is exceptional as well.
Royal Caribbean Cruise
Royal Caribbean is known for its innovative onboard activities. They offer features like water slides, rock climbing walls, zip lines, ice skating rinks, live music performances, and much more. There are also age-specific programs and facilities for children and teenagers.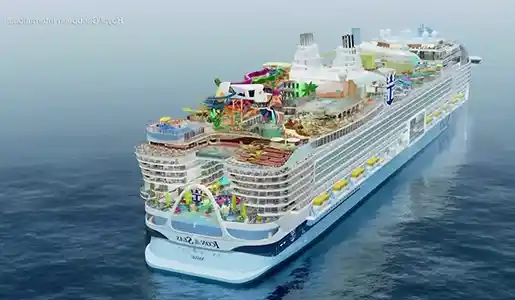 Can't afford the above packages? Check out our economy plan!
If the earlier shore excursions Costa Rica seemed a bit extreme, no worries! Our fantastic Economic Shore Excursion tour is perfect for families with kids and senior citizens alike. We'll take you on an unforgettable journey along the breathtaking Pacific Coast where you will witness monkeys and crocodiles in their natural habitat. It's a real treat for animal lovers! You'll also get to experience the vibrant Costa Rican culture. The best part is that all of this is available for only $29 per person! It's a steal, right?