You must be thinking about what to do and enjoy in your next visit to Costa Rica?
Well, is time to think about and amazing waterfall zipline tour with us.
At all times Costa Rica attracts adventurous tourists from all over the world. No matter if you are looking for a laid-back short break, a lifelong unforgettable honeymoon, an adventure trip where body and soul find comfort or just as a relaxing holiday in exotic nature with modern amenities – Costa Rica offers all of them.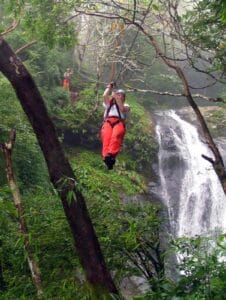 Check out what exactly is waiting for you at our adventure park
Be the one who said in future, "I did the zipline tour over 11 waterfalls" here in Adventure Park and Hotel Vista Golfo, more close to you than what you can imaging…
For all our profesional guides and the administrative staff it will be a pleasure to build with you a quality experience and why not, to give you reasons to comeback again and again.
That is our "PURA VIDA" style ready to be shared to you!!!