A great vacation is often about new experiences, and if you've never tried the Canopy Zipline through a rainforest canopy, now's your chance. Safety is a priority on all zipline canopy tours in Costa Rica, and most tours include an introductory session for those who have never experienced the thrill of ziplining before.
Experienced tour guides are always on hand to ensure your safety and enjoyment of this incredible zipline experience. Ziplining allows you to get off the beaten path, far from the main city of San Jose, and immerse yourself in the beautiful, verdant Costa Rican countryside, all while adding some adrenaline-pumping excitement to your vacation at an affordable price.
If the Costa Rican tropical climate has brought in a few clouds and the weather isn't ideal for lying on the beach all day, head to the rainforest canopy and jump on a zipline!
Why areZipline Tours So Popular in Costa Rica?
Because of Costa Rica's undulating topography and tropical rainforest, zipline tours in various forms can be found all over the country, no matter where you decide to spend your vacation.
The Five Best Ziplines in Costa Rica
If you've never been to Costa Rica before, it can be difficult to know which are the best zipline canopy tours, so we've compiled a list of the top five zipline canopy tours for you:
Arenal Canopy Zipline, Costa Rica
Sky Adventures Arenal Park is a gem of a place in Costa Rica, nestled in an area that transitions between rain forest and the Monteverde Cloud Forest and is also the site of the Arenal Nature Reserve. It is situated on the side of what, as recently as 2010, was an active volcano. Arenalziplining is a wonderfully spectacular experience.
Monteverde Sky Aerial Canopy Zipline, Costa Rica Monteverde, which has been called "a cloud forest paradise" and "one of the most exceptional wildlife refuges in the world," is home to an incredibly rich array of flora and fauna, including over 400 bird species, 100 animal species, and about 2500 plant species. A tour of the best of nature can be had by zipping through the Monteverde canopy.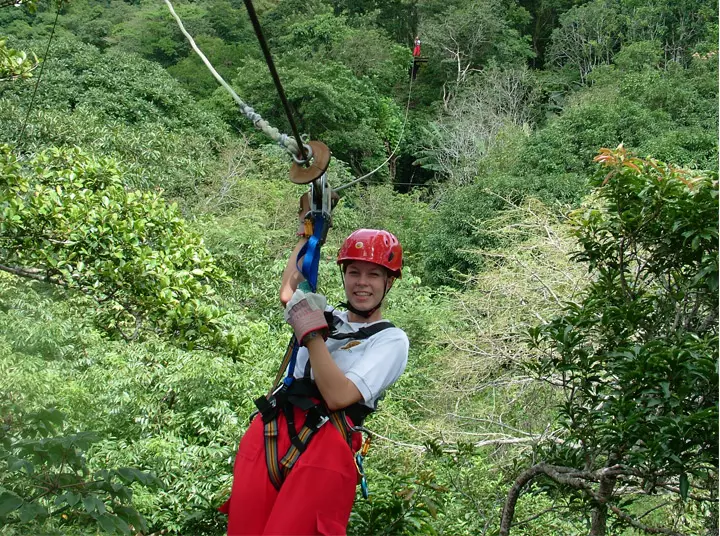 Jaco Canopy Zipline Tour, Costa Rica
This zip line adventure is not for the timid among you, and it is most appropriate for those of you who are genuinely seeking adventure during your vacation! If you can stay awake during the excursion, take in expansive vistas of the Nicoya Peninsula and savor the chance to interact closely with white-faced monkeys and scarlet macaws. We promise that this zipline is not your typical one.
Diamante Superman Canopy Zipline, Guanacaste, Costa Rica
The Diamante Eco Adventure Park, which is home to the longest dual zipline in South America and is ranked among the top five ziplines in the world, allows visitors to experience the exhilaration of ziplining side by side. With 1,360 meters (4,461 ft.) in length and breathtaking seaside vistas, the Superman zipline is almost a mile long! One of the top ziplines in the world, not just the best in Costa Rica!
Manuel Antonio Safari Canopy Zipline, Costa Rica
The canopy safari zipline trip, which is located around 45 minutes from Manuel Antonio, also takes visitors through an enchanted butterfly garden and a fascinating serpentarium. Take the canopy tour, which features 18 platforms, 10 zip lines, and 2 rappel lines, and enjoy the "Tarzan Swing" while taking in all the amazing sights. Are you ready to make a memorable trip to Costa Rica? Explore our Costa Rica Tours and find the one that suits your needs.