Limited-time offer: Pay for three people and get free accommodation for the fourth person! It's the perfect opportunity to gather your friends or family and make incredible memories together.
Silver Package
Our silver package is packed with excitement, offering you over 17 mind-blowing elements to explore. Imagine swinging through the trees like Tarzan, zipping down a four-cable zipline, and facing the challenge of high ropes and rappelling. Oh, and don't forget the mind-bending labyrinth and natural trails with jaw-dropping mountain views! To top it all off, you'll be treated to a breathtaking sundown that will leave you in awe. So, gear up, embrace the thrill, and let's embark on an unforgettable adventure together with our silver package for zipline tours Costa Rica.
Highlights
• Check-in is open from 3:00 PM
• Dinner
• Overnight stay
• Breakfast
• Tour at 9:00 AM
• Check-out at 12:00 PM or after the tour.
---
What's included?
Tour over 17 elements over high ropes
Get ready to experience an adrenaline-pumping journey through our high ropes course, featuring an incredible tour over not just one, not two, but a mind-blowing 17 heart-pounding elements! You don't need to be a pro to enjoy our course. It's designed for everyone, whether you're an expert or trying it for the first time.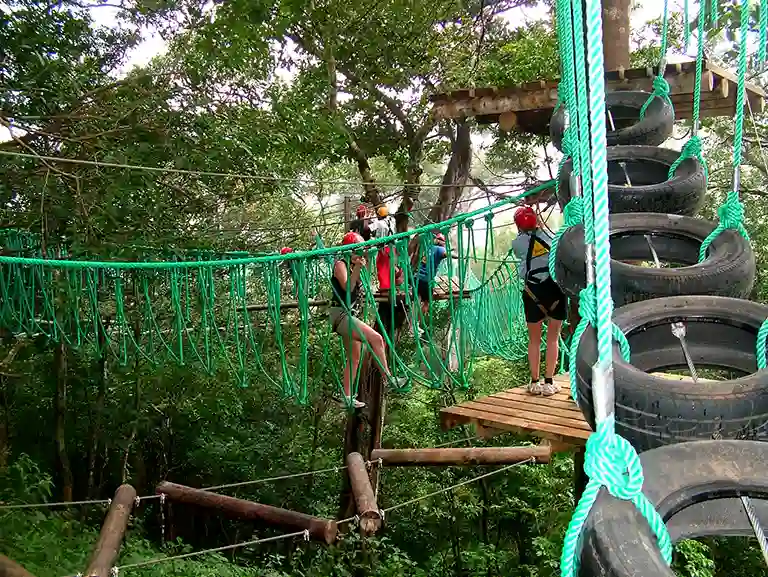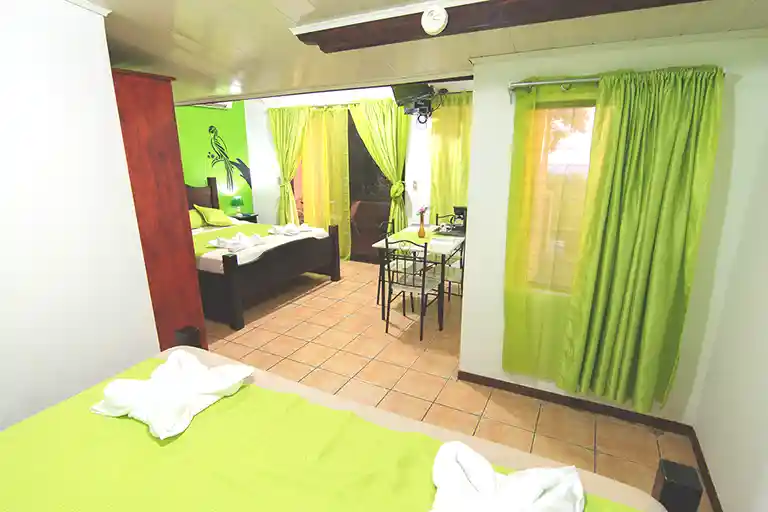 One night stay at your preferred room
When you choose our package, you can stay in the room of your own choice. It's a comfy place to rest and recharge. You can also share stories with other guests or simply enjoy peaceful surroundings. Let the magic of our park and hotel rejuvenate your spirit and leave you with incredible memories.
Tarzan swing
Imagine yourself flying through the air, just like Tarzan, on our incredible Tarzan swing. It's an adventure that will make your heart race and leave you with a big smile on your face. It's a super fun activity that lets you swing high up in the air, holding onto a strong rope just like Tarzan himself. Our friendly guides will make sure you're safe.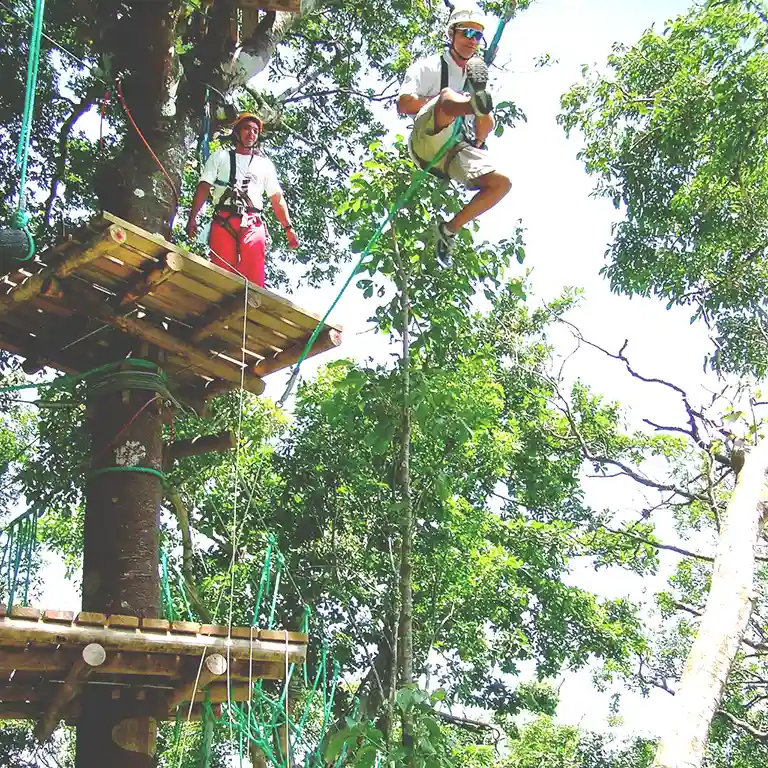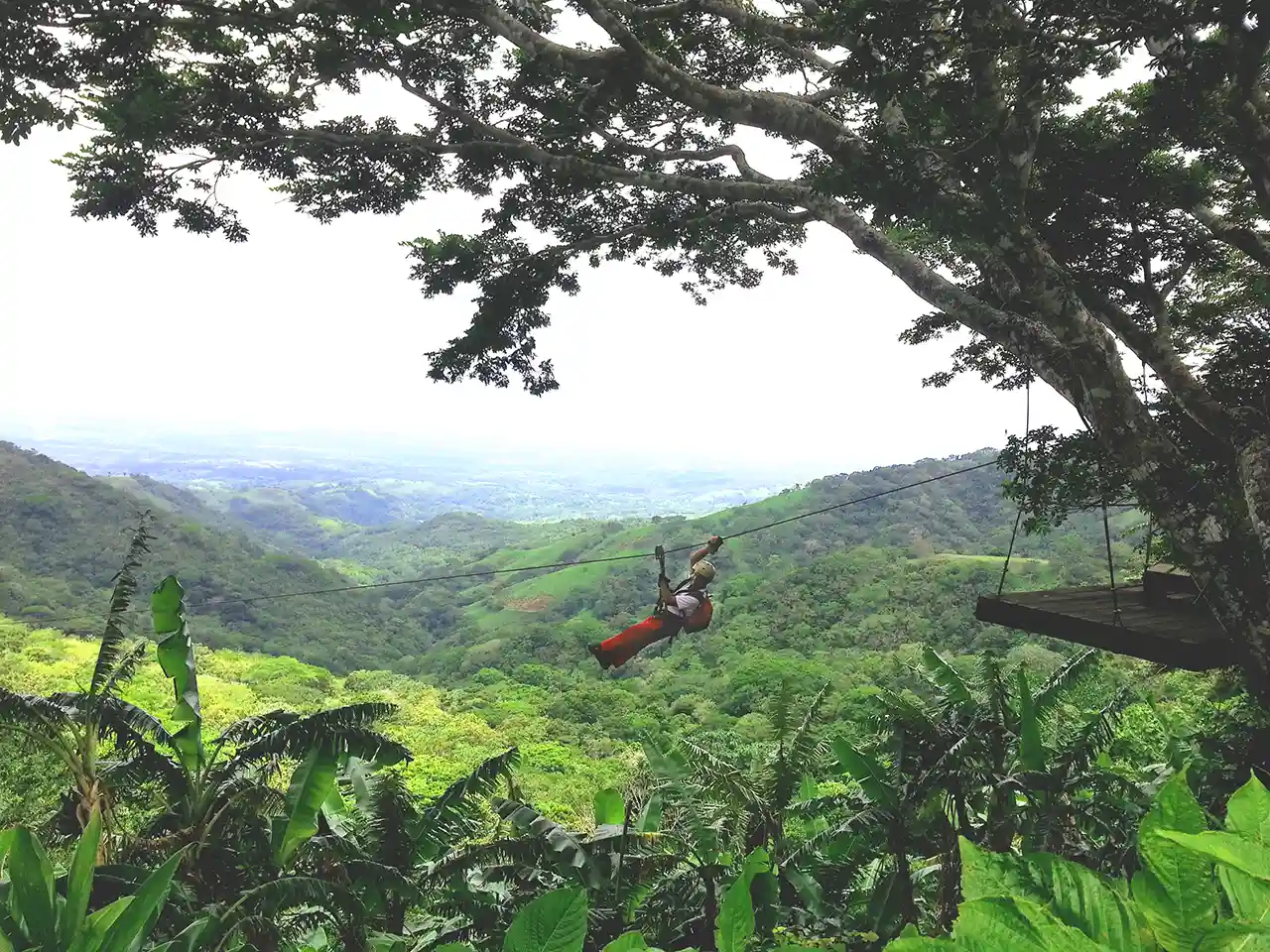 Four cables zipline
Our four cables zipline experience is all about excitement and adventure! As you fly through the sky, take a moment to enjoy the incredible views around you. Don't forget to capture the fun with your camera and share the excitement with your loved ones. It's time to experience the thrill of flying and create memories that bring a smile.
Rappel
Our adventure park is the perfect place for people who love excitement and want to try something new like rappelling. Rappelling is not just an activity—it's a chance to challenge yourself. As you make your way down the platform, you'll feel a sense of achievement, gain confidence, and make memories that will last a lifetime.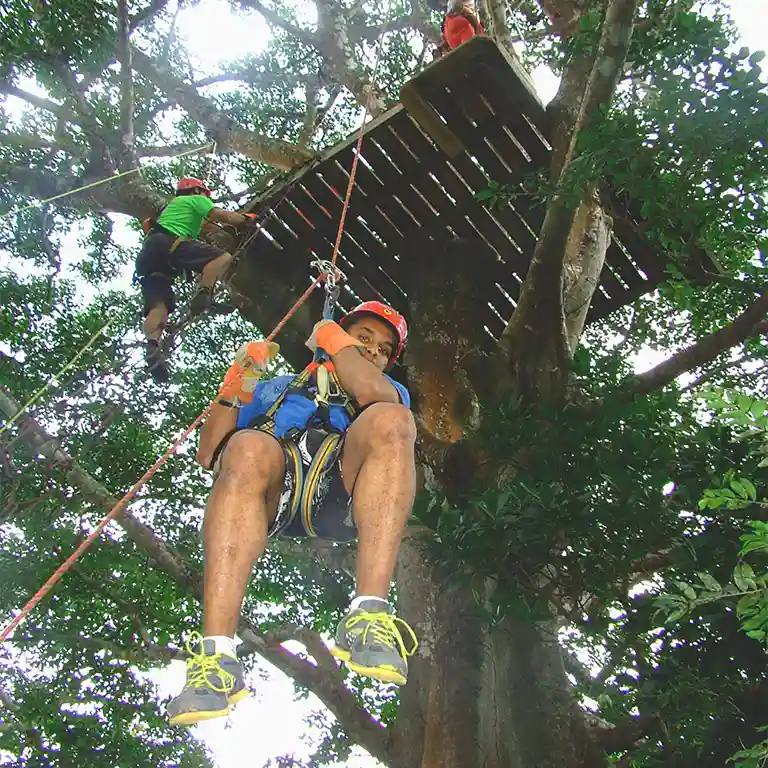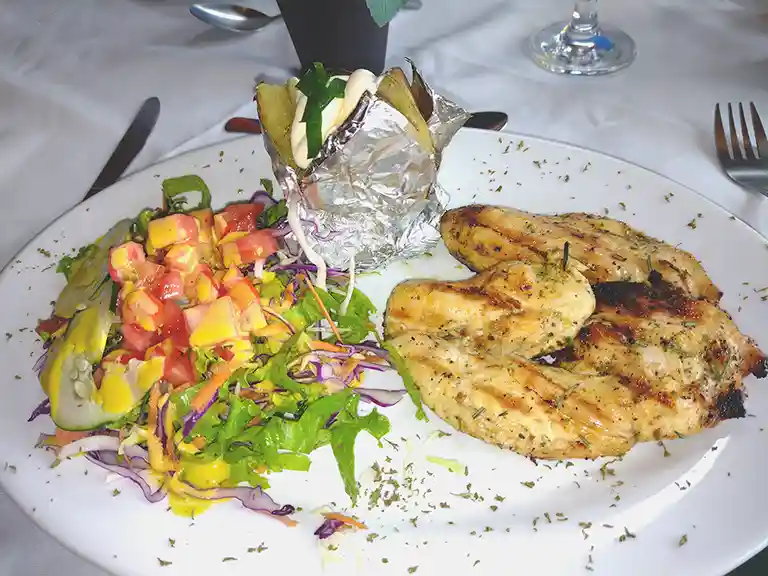 Three-course dinner and breakfast
At night, enjoy a delicious dinner with a fantastic view of sunset. Our talented chefs have prepared a special menu for you. Once you wake up feeling refreshed, head to our dining area and enjoy a mouthwatering breakfast. Don't forget to enjoy a steaming cup of coffee or tea to start your zipline tours Costa Rica on the right note.
Additional activities
Take a break from the daily chaos and visit our adventure park to revitalize mind and body. Whether you want to navigate through twists and turns of our intricate maze, walk along our scenic trails, dive into our refreshing pool, or watch your children take on our low rope course, we have numerous options to entertain our visitors.
Reserve your room
Explore breathtaking trails, soak in the beauty of mountains, and have the time of your life. Don't wait! Reserve your room now and get ready for an unforgettable journey filled with incredible moments that will stay with you forever.
Fly high, conquer the sky!
Are you ready for an incredible experience that will leave you with unforgettable memories? Fly through the air on exciting ziplines, conquer thrilling high ropes courses, take in stunning views of nature, and spend the night in a cozy room with our Silver Package for zipline tours Costa Rica.
Room
Double & Bunk bed Terrace / AC
Two Queen / balcony / view / AC
King & Queen sized bed / & trundle bed / terrace / view / AC
Green Season
High Season
Easter Christmas
Green Season
High Season
Easter Christmas
Green Season
High Season
Easter Christmas
Single room
$ 128
$ 138
$ 147
$ 138
$ 149
$ 159
$ 172
$ 186
$ 198
Double room
$ 99
$ 107
$ 114
$ 106
$ 114
$ 122
$ 123
$ 134
$ 141
3 persons per room
$ 93
$ 100
$ 107
$ 98
$ 106
$ 113
$ 106
$ 114
$ 122
4 persons per room
$ 89
$ 96
$ 102
$ 94
$ 102
$ 108
$ 103
$ 111
$ 118
5 persons per room
$ 94
$ 102
$ 108
6 persons per room
$ 92
$ 99
$ 106
Additional person
$ 81 (each)
$ 87 (each)
$ 93 (each)
Prices are per person
High Season January 11th to May 14th
Green Season May 15th to December 14th
Eastern / Christmas December 15th to January 10th