Superman Zip line Night Tour in Costa Rica
Feel the secret of the night while running our Night Canopy tour Finca Daniel
Brave? Daring? Adventurous? If you answered yes to these three questions, and can't get enough of the normal Zip line Canopy Tour.
The Canopy (zip line) tour and to fly like Superman is the ideal adventure for those people who are dreaming of Costa Rica's rain forest at night, our zip line night tour will make this dream to come true.
It is indeed a very special, extraordinary event, since no doubt that the rain forest is already of a breathtaking attraction by daylight, it is almost unimaginable to experience its charm at night. Millions of stars in the sky are supplied free of charge by our nature and you will be able to give them your full admiration while you are flying 700 meters on a steel cable, just like Superman above huge trees in the darkness of the night.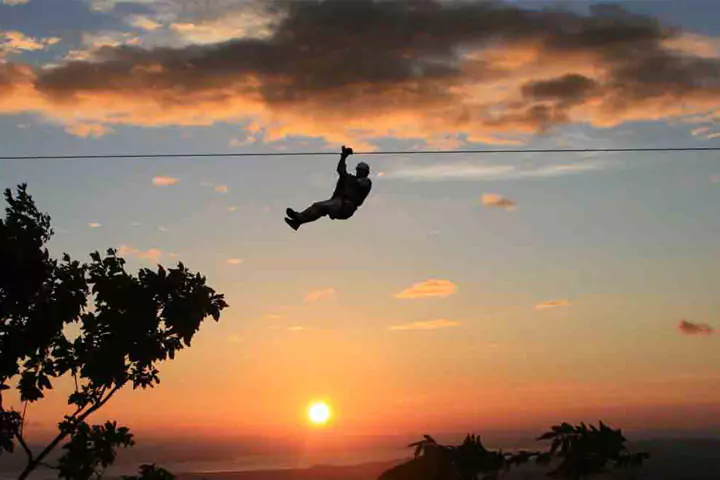 Come and experience with the experts all the magnificent sounds the forest has to offer you during the nightime, the combination of adventurous cables with some hikes by our trails, would give the possibility to experience part of the fauna that only is possible to see during the nightime will give one of the lifetime experinces just to never forget.
All memories gained by a Canopy zip line Superman night tour will be stored in your memories like an unforgettable and invaluable Adventure. While you are flying above an immense height of huge, exotic trees and the beauty of the tropical rain forest is as well above as below you, you might feel that Gods creation is overwhelming your emotions. While you are speeding along the zip lining you will recognize yourself as a part of this nature, you will hear that the rain forest at night is governed by uncountable night active animals, by undefinable noises, by birds screaming by crackles everywhere. All tours are accompanied by our professional guides who assure your safety and who do well care for you. The Superman zip line tour is the same as during daytime. However, you will be in the magic of the night, you will be much more sensitive for all the noises around you. Well equipped with helmet headlights we are sending you on our zip line Superman night tour where the natural romantic of rain forests will leave emotional impressions for the rest of your life.
Looking forward to come to Costa Rica for Holidays? We can make all the arrangements to stay in a 4 stars all-inclusive resort, the Double Tree Resort by Hilton in Puntarenas, close to the airports, most popular beaches and of course our Adventure Park, to enjoy the Zip Line Tour over 11 Waterfalls, the High Ropes Course and more. We can make the Airport pickup, Hotel-Hotel or Hotel-Airport arrangements for you. So please let us take care of all the details. Ask to have the quote for amazing holidays in an all-inclusive beach front hotel with everything covered.